Coach Kenny Brooks Hopes to Lead Hokies Back to NCAA Tournament

One more quarter – just 10 minutes – was all that separated the resilient squad of players from securing a spot in the national championship game, and a place in Virginia Tech basketball history.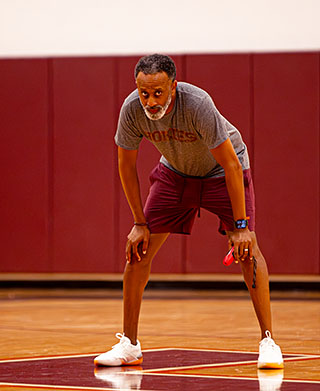 They could taste victory, up by nine points on the powerhouse team from Louisiana State University.
"I've played it over and over and over in my brain," says Virginia Tech women's basketball coach Kenny Brooks, reflecting on his inner thoughts. "With the bounce of the ball going a different way, or you just did a little bit here or there."
But LSU came back with a fury to win 79-72, going on to claim the national title.
By reaching the Final Four of the 2023 NCAA Tournament for the first time in Tech's history, Brooks and the Hokies had already shattered the country's expectations. More than 1,000 miles from their homebase in Blacksburg, and firmly in the national spotlight, the team wasn't cracking under the pressure in the Dallas stadium. The odds just weren't in their favor.
"What that proved to me was that a national championship is within grasp," Brooks says.
Maybe one of his next Virginia Tech squads will get a chance at ultimate glory. For Brooks, it would be a crowning achievement in a college coaching career that has spanned nearly three decades – all spent at Virginia public colleges and universities. Certainly, when he finally hangs up the whistle, it would make him one of the commonwealth's most legendary retirees.
Growing up Virginian
In the small town of Waynesboro, tucked away at the base of the Blue Ridge Mountains, Brooks discovered his passion for sports at a young age. Later in life, when people from bigger places like New York or California asked him what he did to pass the time, his answer was simple.
"We made our own fun," he says. "I wouldn't trade it for anything in the world."
Basketball played a central role in Brooks' childhood, bringing his community together and teaching him the values of friendship and camaraderie. "That really paved the way for my mindset and my work ethic for years to come," he says.
Charting His Career Path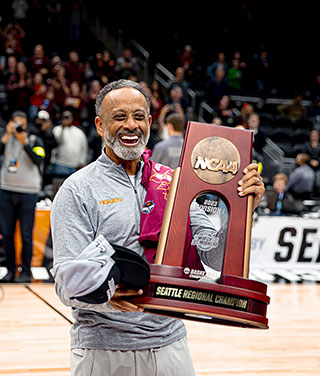 After graduating from Waynesboro High School in 1987 – receiving an honorable all-state mention for his basketball debut – Brooks was recruited to play at James Madison University. He played for three seasons under the legendary coach Charles Grice "Lefty" Driesell and saw much success. Brooks appeared in two National Invitation Tournaments with the Dukes and was a member of two JMU squads that finished first in conference regular season play.
"We all have dreams and aspirations of playing in the NBA," Brooks says. "I wanted to do that, but I quickly learned that the gifts that I had, they weren't good enough for the NBA."
Nonetheless, Brooks still loved the game and wanted to stay around it for as long as he could. In his junior year, Brooks expressed to his coaches that he wanted to lead a team of his own.
"The last two years of my career, he [Driesell] coached me differently," Brooks said. "He coached me as if I were going to be a coach one day. For that, I'm indebted to him."
After graduating from JMU, Brooks worked for several years as an assistant coach at his alma mater and, more briefly, at Virginia Military Institute. In 2003, he was named head coach of JMU's women's basketball program. He led the Dukes to the NCAA Tournament on six occasions, ending his run as coach in 2016 with more than 330 wins under his belt.
"I always loved the strategic part of basketball," he says. "It was just a natural move for me to transition from a player into being a coach."
A 'Family' of Hokies
When Brooks arrived at Virginia Tech to helm the women's basketball program, he had his work cut out for him.
But the coach shaped up the team quickly, leading the program to national prominence and the Final Four, just seven years later. He credits his organic leadership style; getting to know his players as people, rather than through their measurables. He also praises the Hokie community – from the players to the athletic staff and fans – for always showing up to support one another.
Looking Ahead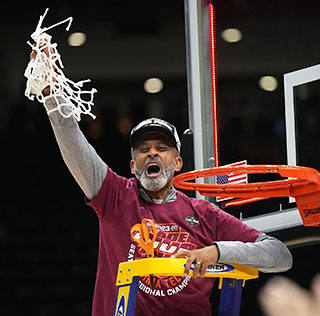 Now going on 30 years as a Virginia Retirement System member, Brooks knows the value of planning the next chapter in life. He sees the opportunities that his players have and encourages them to grab hold.
"As young people, the last thing you're thinking about when you first start [work] is retirement," he says. "But … if you give yourself every chance to be successful, and you invest in your future at a very early age, it's going to pay dividends for you down the line."
As for his own retirement, Brooks doesn't see it happening anytime soon. He says with a smile that he may push for 40 years with VRS. "I'm not a Florida guy," he says. "It's too hot down there."
And besides, Brooks still has at least one thing to cross off his career bucket list. Reaching the Final Four with Virginia Tech is an experience he hesitates to call a once in a lifetime opportunity. He wants to go back – and this time for the gold.
"You're going to be the hunted as opposed to being the hunter now, so the philosophy has to change," Brooks says. "But our goal is to win a national championship."
Photo Captions:
Top right: Kenny Brooks, a Waynesboro native and James Madison University alum, now sports Hokies colors as coach of the Virginia Tech women's basketball team.
Center left: Virginia Tech coach Kenny Brooks holds the team's Final Four trophy at the NCAA women's tournament semifinals in Seattle.
Bottom right: Coach Kenny Brooks celebrates the Hokies' semifinal win over Ohio State, which secured Tech's first Final Four appearance in the NCAA women's tournament.
---
You might be interested in