Ruby Osia Reflects on Global Travels and Kindness

When Ruby Osia's cruise ship finally pulled into Paradise Bay, Antarctica, on a gusty morning in January 2020, the retired Alexandria schoolteacher was stunned by what she saw.
This was the seventh continent Osia had visited, bringing her lifetime of global travels full circle. New Zealand had previously been her favorite place in the world – until she saw Paradise Bay.
"I was mesmerized by the spectacular icebergs and glaciers," she says.
Like many others aboard the ship, Osia whizzed around the deck snapping photographs of the scenery. Although she loves the sight of flora, she found beauty in the absence of greenery on the southernmost continent.
"No weeds, no trees, no flowers," she says. "Nothing but ice and snow." She remembers fondly the breathtaking beauty of Antarctica's mountainous landscape and the strength of the arctic gusts in the air.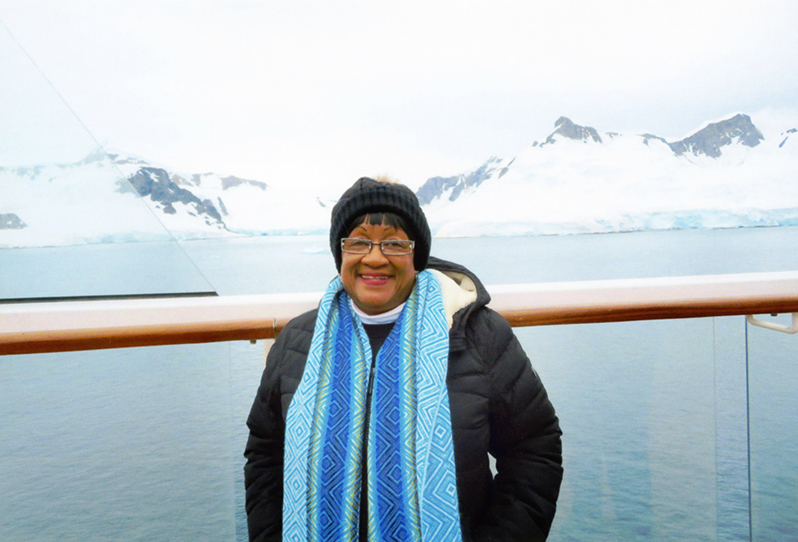 Her past intercontinental journeys took her to many places, including Iceland, Australia, China and several countries in Africa. But no matter where Osia finds herself in the world, one thing is always the same: people have kindness in their hearts.
"I've found the people that I came in contact with to be very friendly," she says. "Extremely friendly – answered all questions, went beyond the call of duty to help."
During one of her first trips abroad in Kerala, a town deep in the south of India, Osia's hair was frizzing due to the heat, and she had forgotten her hair gel at home. Seeing the predicament, a local woman hurried back to her home, soon returning with a gift of coconut oil to save the day.
While exploring India's iconic landmarks such as the Taj Mahal and cities like New Delhi, Osia, then a student at Howard University, also had an up-close view of the disparities between rich and poor.
"It taught me to be grateful and thankful for everything that I have," Osia says. "To have food in my refrigerator – more than enough. To have food in my cupboards – more than enough. Running water, hot water, cold water to take a shower. It was life changing for me."
Although Osia has traveled far and wide, home is still her favorite place to be. She writes letters to friends about her latest trips, attends a senior citizens group at church, and assists others by driving them to doctor's appointments, stores or wherever they need to go.
"And I do it for free because that's my personal missionary work," she says. "Our parents taught us that you help other people wherever and whenever you can."
Osia was raised in Thomasville, North Carolina, and attended Church Street School, a historic school for Black children built in the 1930s. Seeking new opportunities, she moved to Virginia in 1973. She retired in 2007 with 34 years of service to Alexandria City Public Schools – 18 years teaching at Mount Vernon Community School and then another 16 years at Lyles-Crouch Traditional Academy.
"I loved my job," Osia says. "Even if I don't touch but one child's life, that's one child that I've made a difference in their life."
She taught sign language for many years and now teaches a seasonal elementary math course for a nonprofit group. She also volunteers as an interpreter for her church.
Osia's tips for those who want to travel like her: read about where you are going and don't be afraid to try new food or experiences.
"My first advice would be 'go,'" she says. "Any place you want to go to – just go."
Do You Have a Story to Share? Contact VRS at proffice@varetire.org with your unique retirement experiences or advice about life in retirement.
---
You might be interested in